This classic party package is built for YOUR child, no matter what age! Older children will delight in spending an hour with their favourite character, while younger children will appreciate the extra time to warm up and make memories of their own.
The character(s) of your choice will arrive at the party location on time or slightly early and knock on the door. For surprise reveals, have your child answer and be ready to film their reaction! We've had kids jump up and down, run in for a hug, and even scream in excitement.
We bring a variety of activities and use them to create a party in the moment that best caters to the group and the birthday child's wants and needs. The activities are age appropriate, themed to the character(s) attending and include various games, stories, sing-a-longs and performances. Our games are designed to include all guests regardless of age and gender - if your daughter has a brother, he'll have just as much fun participating as she will!
All materials will be provided and our performers come prepared - all you need to do is sit back, relax, and enjoy!
ADDITIONAL CHARACTERS: +$100 each
Ultimate (90 Minutes)
$240
Want the most bang for your buck? Have our characters entertain for even longer, and enjoy our Certificate Ceremony upgrade FREE!
This package includes everything listed in the "Classic" package above, plus an extra 30 minutes of fun! Expect more time for interaction, our special "Certificate Ceremony" as well as a sit down colouring activity (all materials provided) when guests need a moment to catch their breath.
The extra time can also be used for:
having our character(s) assist with singing Happy Birthday, bringing out the cake, and opening presents

unstructured time for the birthday child to interact with the character(s) as they choose, whether that be playing with their toys, telling them a story, or asking questions

having our character(s) join in on other planned activities, such as a pinata

extra time for activities to ensure that everyone gets a chance to participate in the case of a large guest list

anything else you can think of!
All materials will be provided and our performers come prepared - all you need to do is sit back, relax, and enjoy!
ADDITIONAL CHARACTERS: +$125 each
**There will be a travel fee for EVENTS farther than 30km from our location.**
Add one of these to your booking!
Basic Goodie Bags for All Guests: +$10 per child

Coronation Ceremony with Crown for Birthday Child: +$20

Themed Ceremony with Custom Certificate for Birthday Child: +$10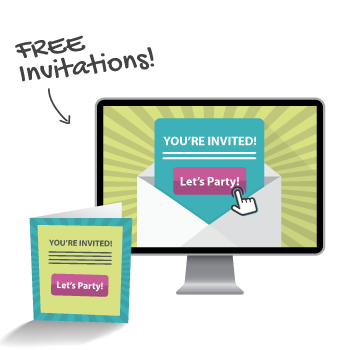 We offer FREE Invitations when you book!
Personalized invitations for your unique event
Create printed and electronic invitations
Easily track your guestlist
Quickly send updates to your guests
Watch this video to see how it works!
Powered by YAY-List
Event Appearances
Our characters are available for event appearances year round. We offer meet & greets, photo ops, group games or activities, and can fulfill most other requests.
The needs of each client and event can vary greatly - because of this, we do not set prices and instead do individual quotes for each inquiry. If you are interested in having one or more of our characters at your event, please feel free to contact us by email, phone, or using the form below! We will get back to you as soon as possible, usually within 24 hours.
Charity Requests
We strongly believe in giving back to the community. If you are hosting a charity event, would like a character to visit children at your non-profit organization, have a child in the hospital or need items to auction for a good cause, please contact us. If it is within our power (depending on how much we've committed to already), we'd be happy to help!